VO2 Max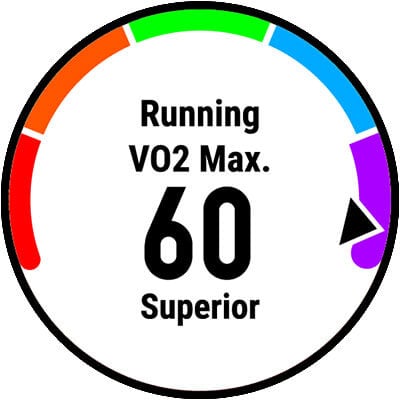 Your VO2 max score is the key to seeing, understanding and, more importantly managing your personal fitness level. At a technical level, it describes the maximum rate at which you can bring oxygen into your body, transport it to your muscles and use it for efficient aerobic energy production. At a personal level, it is a remarkable and versatile tool with a variety of health and performance implications.
When it comes to understanding your VO2 max score, it's easy to remember that low VO2 max scores represent poor fitness levels, and higher VO2 max scores indicate greater performance capacity. Like most aspects relating to physical performance, there is a genetic dimension to how efficiently your body uses oxygen and, by extension, your VO2 max range. That said, your VO2 max score is dynamic, and it reacts to how you live and train. With the right approach, practically everyone can improve their VO2 max score.
The people least likely to be able to improve their VO2 max are elite athletes, because they are already in excellent shape. This is great news for everyone else.
Studies have shown that being more active can make you happier and live longer. VO2 max is a key metric used to study and verify this from a scientific perspective. If you're looking to improve, your device also offers the tools you need to get things headed in the right direction.
For those interested in performance, VO2 max can be used in a slightly different way. The more oxygen your body can use during exercise, the more power you can generate and, therefore, the faster you can run during a race.